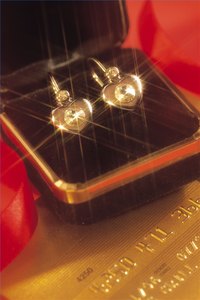 How to Make an Earring Holder. If you are continually searching for missing earrings, here's a solution. This earring holder provides an easy way to keep those baubles organized. It takes less than half an hour to make.
Things You'll Need
Purchase a grease splatter. A grease splatter is a round, metal, mesh device with a handle. It is used to reduce the amount of grease that splatters from a pan. They are available at dollar stores and kitchen supply stores.
Drill a small hole into the middle of the handle. The hole should be big enough for the screw to fit through.
Find a stud in the wall and secure the grease splatter to it with a small screw. Put the screw through the hole and into the wall.
Bend the handle out from the wall until it is parallel with the floor. Bend the splatter screen up until it is parallel with the wall.
Place the earring stems through the holes in the mesh and attach the backs through the other side of the screen.