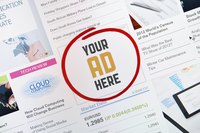 Publicity is not just about getting your name in the news. It is about cultivating a positive relationship between your customers and your brand. Social media allows for instantaneous messaging from your company to your consumers but is not the only means to develop lasting goodwill. To get good publicity, consider creative marketing and developing a network of people who can help you and your company in the long-term.
Cultivate Positive Relationships
Publicity involves getting others to tell your business' story. If you have positive relationships with employees, business associates, customers and members of the community and media, the story they tell is more likely to put your business in a good light. Consider a cross-promotional relationship with business owners in a similar field by offering deals on their products to your customers, and vice versa. Get to know journalists who report on your industry and give them story ideas about your business and market. You'll make their jobs easier and get your business name out. Also, keep in mind that customer opinion is what matters most. Every satisfied customer might be the one that gives you good publicity on online reviews or in conversations with others, so work hard to provide excellent customer service and foster positive customer relationships.
Partner With a Good Cause
To build goodwill in your community, get involved with charitable organizations supported by your customers. For example, if you sell natural dog treats, consider donating products to a local animal rescue shelter or sponsoring one of its fundraising events. This will give you the opportunity to promote your brand and show your customers that you value the same causes they do. Consider hosting your own charity event and recruit other sponsors. As an example, the National Federation of Independent Business points to a small-business owner who started a 5k race that was paid for almost entirely by participants and sponsors and resulted in positive publicity and goodwill.
Promote Your Expertise
You can be the best source of your company's good publicity. Participate in industry events and community activities connected to your business. For example, you might offer to mentor students in the area, speak at local Chamber of Commerce events or host workshops in your area of expertise. Your business and brand will benefit from the goodwill this generates through word-of-mouth publicity. You can also build positive relationships and publicity within your industry by volunteering to hold leadership positions in industry trade groups.
Create Marketing Activities
Consumers are used to getting things for free, and giving out freebies is an effective way to get good publicity. For a freebie to help your business, get customers excited by making a game out of it. Create a scavenger hunt and post it on your social media pages. Encourage customers to tweet photos or post on Facebook when they find the free items. It will not only make customers happy -- it is also something they will share with friends, which helps expand your customer base.