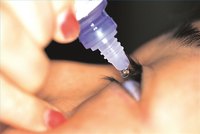 How to Treat Pseudomonas Infections. Pseudomonas infections are caused by any bacteria in the Pseudomonas genus, especially Pseudomonas aeruginosa. They are very hardy in moist environments and can infect the blood, bones, ears, eyes, heart valves, lungs and urinary tract. These infections are usually minor but can be life threatening in patients with compromised immune systems. People with diabetes are at particular risk. Learn how to treat pseudomonas infections.
Use antibiotics. Injections of an aminoglycoside, like gentamicin or tobramycin, with a dosage of 5 mg/kg/day is usually effective. Other antibiotics used effectively against Pseudomonas include amikacin, azlocillin, carbenicillin, mezlocillin, piperacillin and ticarcillin. The specific choice of antibiotic depends, in part, upon local resistance patterns.
Apply acetic acid drops and topical antibiotics to a Pseudomonas ear infection and it should improve quickly. Hot tub folliculitis usually does not require treatment.
Treat Pseudomonas eye infections with highly concentrated antibiotic drops. The antibiotics are sometimes injected directly into the eye.
Debride Pseudomonal toe web infections and apply silver nitrate or a 5 percent solution of acetic acid. Continue to apply a topical antibiotic until the infection is gone. Silver sulfadiazine is the most commonly used agent, but silver nitrate and mafenide can be effective as well.
Realize that more serious Pseudomonas infections can be difficult to treat. They typically require weeks of intravenous antibiotics, usually in combination. An infected heart valve can sometimes be treated with antibiotics but often require open heart surgery to replace the valve.