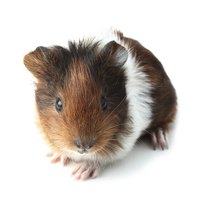 In the wild, guinea pigs come into contact with surfaces such as stone and wood that help wear their nails and keep them from growing excessively. In the comforts of your guinea pig's cage, these items likely are absent, and if present, may not garner your pet's attention. Unkempt nails can curl and cause issues with the bottom of your guinea pig's feet. Proper grooming of your guinea pig's nails can prevent these issues.
Things You'll Need
Towel
Treats
Nail clippers
Small flashlight
Styptic powder
Place your guinea pig on the towel.
Offer some treats. Nail trimming can be a stressful thing, especially for new owners. Treats will help your guinea pig associate nail trimming as a positive experience.
Choose your nail clippers. Specialty trimmers for the nails of small pets are available at pet retailers, but many guinea pig owners choose human nail or toenail clippers for the ease of use.
Identify the quick. The quick is a tiny vein that runs through your guinea pig's nails. Clipping the quick will cause bleeding, so you'll want to avoid that if possible. The quick should be visible easily in light-colored nails, and may be visible in darker nails by shining a small flashlight beam under the nail.
Clip each nail, beginning with the back feet. If you cannot identify where the quick ends, clip only the very end of the nail. The quick gradually will recede as the nail is trimmed. For long nails, especially those in which the quick isn't visible, clip only the tip and repeat weekly. Speak softly to your pet and stroke his fur in between clippings. If he becomes anxious, offer him a treat to reinforce the positive experience.
Apply styptic powder only if the quick is clipped accidentally. Do so by placing your guinea pig's foot directly into the powder. Do not return your pet to his cage until you are sure any bleeding has been stopped.
Repeat nail clipping every 30 days for best results.