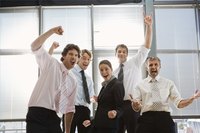 How to Retain Valuable Employees. The long term health and success of your business depends on your ability to retain valuable employees. Keeping good employees saves time, increases sales, and builds an environment of goodwill, knowledge and efficiency. If you find you're losing critical staff members, it's time to take some steps to prevent it from happening again.
Pay employees fairly and offer competitive benefits. Skimping on salaries, health insurance, paid leave and 401K plans is a good way to make valuable workers head for the hills. Keep on top of regional salary averages for each position.
Give your employees honest, constructive feedback on their daily performance. Good efforts should receive praise, or employees may feel you haven't even noticed their hard work. If there's something you feel they can work on, let them know in a way that doesn't imply that they've done something wrong.
Refrain from using sarcasm, even if you're joking. Humor has its place and keeping a lighthearted working environment is good, but if you insist on teasing employees, they may grow to resent it. What you think is good fun may come off as ridicule to others.
Be flexible about your employees' schedules whenever possible. Today's workers want a work/life balance. Flexible starting and ending times for all shifts can help employees get important personal tasks done.
Make the working environment fun yet efficient. Encourage camaraderie through company parties and traditions. Allowing your employees to get to know each other outside of their essential tasks creates a positive environment in which they feel more comfortable.
Communicate openly, and with respect. Allow them to have a say in major decisions that affect them, such as the direction of the company and changes within their department. Keep in mind that your business should be a group effort, not a monopoly. Listen to their ideas and opinions with an open mind.
Provide opportunities for employees to increase their knowledge and skills. Many people want to continue moving up in their field, and will be less likely to leave the company they work for if there are opportunities for growth within. Offer cross-training, workshops and presentations, and encourage mentoring within the company.
Recognize and reward good performance with increased pay. Celebrate when major goals are reached. Bonuses are great for morale, and workers who feel appreciated work harder.