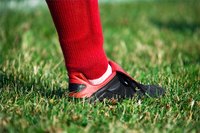 How to Make a Home Remedy for Athlete's Foot. Like the common cold, there doesn't seem to be a fast cure for athlete's foot. The fungus thrives in the warm, moist environment of shoes and on locker room floors. Most of the time you don't need expensive, long-term treatments. You can make a home remedy for athlete's foot that will make those itching, burning footsies happy once again.
Ease your discomfort immediately with this herbal foot bath. Use your blender and mix 3 sprigs of fresh basil with 1 cup water. Add ¼ salt and enough water to cover your feet in a pan. Heat the mixture until it boils. Allow the mixture to cool until it's comfortable enough to soak your feet for 30 minutes.
Read up on grapefruit seed extract. It's getting good press for having lots of helpful properties, including being anti-fungal. Add a few drops of the extract to a bit of water in your hand and apply it to your feet a couple times a day, drying your feet thoroughly after each application. You can purchase grapefruit seed extract at health food stores.
Give mouthwash a second job. Fill a small pan with enough major brand mouth wash to cover your feet. Soak for at least 10 minutes a day until the fungus is gone. Repeat as needed and dry your feet thoroughly after each application. This option helps freshen your feet if you also have a problem with odor.
Hold your nose and give vinegar a try. Of course, is there anything vinegar can't fix? Actually, vinegar contains ingredients that love to munch on fungus, especially the kind that causes athlete's foot. Mix a drop or two in enough water to cover your feet and soak about 10 minutes. Don't forget to dry your feet thoroughly after each application.
Stuff some crushed garlic into a pair of dry socks and wear them to bed. Like vinegar, raw garlic lives to kill athlete's foot fungus.