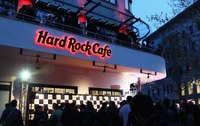 The Hard Rock Cafe draws most of its clientele not because of its food, but with its ambience, music and merchandise. While these things give you some assurance of success, a Hard Rock Cafe is one of the more expensive franchises to open. There are also limited opportunities to open one.
Determine if you have the ability to attain the franchise fees and startup costs for a Hard Rock Cafe. It's likely you'll need to have the resources of a large company to open a franchise. The total investment necessary is likely to be between $3 million and $5 million.
Think about whether you have the qualifications the Hard Rock Cafe looks for. While they do not require certain exact qualifications, franchise applications are very competitive and you must have strong qualifications. Business experience, marketing experience, management experience, experience with restaurants, night clubs, bars and live music can help your chances.
Find a location for the franchise appealing to the Hard Rock Cafe. There are 120 Hard Rock Cafes in 40 countries, so opportunities are limited. You must find a large metropolitan area that does not already have a Hard Rock Cafe.
Assign people in your company the task of deciding if a Hard Rock Cafe makes sense for your company. Involve a business strategist, accounting and hire a franchise attorney. The Hard Rock Cafe gives you benefits including advice on site location, design help, access to consultants, operations and budget advice, grand opening assistance, business planning, marketing, advertising, promotion and training. However, they do take 5 percent royalties on food and 10 percent royalties on merchandise.
Arrange for your company to secure financing of the necessary $3 million to $5 million. Before contacting the Hard Rock Cafe, you must make sure you have access to funding from your company or through a third party financier.
Go to the Hard Rock Cafe website and click on "Franchise Opportunities" at the bottom of the page. You'll be given some information about what the Hard Rock Cafe expects from potential franchise owners and an email address to contact the Hard Rock Cafe. You must submit a summary of your qualifications and state your ability to finance a Hard Rock Cafe franchise.