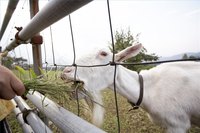 How to Buy a Goat Farm. Buying a goat farm can be a rewarding experience. Goats are intelligent and interesting creatures and are a good source of revenue for those looking to supplement their income. Goat cheese, goat's milk and goat wool from certain varieties are all desirable products in today's market. Read on to learn how to buy a goat farm.
Research what kind and how much land is needed for a goat farm. This will include how many goats can be cared for per acre, what kind of housing is required and what type of terrain they need.
Talk to goat farmers in your area about what it takes to run a goat farm. Consider visiting a farm for the day or weekend to get a feel for what goes on.
Contact a local real estate agent dealing in farm property. Let her know you are looking specifically for an established goat farm or property that will accommodate a new farm.
Attend local 4-H events or your county or state fair. This is a great way to meet goat farmers, especially during the days when they are showing their animals.
Check your local paper for property for sale in or near the area you are interested in. This is also a good way to stock your goat farm. Often farmers will advertise goats for sale in the local paper.
Visit the American Dairy Goat Association website for vital information on goat care and farming.
Find out the value of farmland in the area you are interested in so you can make appropriate bids for property.