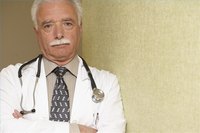 How to Treat Prickly Heat Rash. Prickly heat rash, or miliaria rubra, is a disorder that occurs when your sweat glands become clogged after being out in the heat for too long or from excessive perspiration. Prickly heat rash appears as small, red bumps or translucent, fluid-filled blisters on the areas of your body that do not receive enough ventilation such as elbow creases, groin, upper chest or neck. Follow these steps for some relief from prickly heat rash.
Take a cool bath with cornstarch, oatmeal or baking soda added into to the water.
Gently clean the prickly heat rash area with a mild body soap to remove germs, sweat and dirt. After soaking in the tub, gently pat the area dry with a clean towel.
Apply hydrocortisone cream to relieve itching. Gently rub the cream into to skin until it is fully absorbed.
Spread a product that contains salicylic acid (such as acne treatment pads) over the bumps. This will assist in drying the rash and unclogging the pores.
Repeat these steps every three to four hours to relieve the itching and heal the rash.