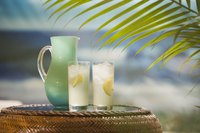 While aspartame is generally recognized as safe by the U.S. Food and Drug Administration, some people find they feel worse when they consume this artificial sweetener, also called AminoSweet, Equal and NutraSweet. Avoiding aspartame may help these people avoid unpleasant symptoms, which can include dizziness and headaches. Aspartame contains the amino acid phenylalanine, so people who have the genetic disorder phenylketonuria, or PKU, also need to avoid aspartame.
Diet or Low-Sugar Foods
Using aspartame helps the manufacturer maintain a food's sweet taste while reducing its calories, which is why diet and reduced-sugar foods are the most likely to contain the substance. These include diet sodas, diet versions of gelatin or pudding, diet juice drinks, sugar-free chewing gum, light or low-fat yogurts, light ice cream, ice pops, tabletop sweeteners and low-fat flavored milks. Because aspartame breaks down when it is heated to higher temperatures, it's usually only used in foods you don't have to heat up before eating.
Other Foods
Foods that aren't marketed as low-fat or diet foods could also contain some aspartame along with other types of sweeteners in an effort to lower the overall calorie and sugar content and make them seem more nutritious. For example, some cereals, canned fruits, fruit spreads, syrups and nutrition bars contain this sweetener.
Read Ingredients Lists
The only way to know for sure whether a food contains aspartame is to check the label. The label on foods containing aspartame will also contain the warning "Phenylketonurics: contains phenylalanine." This is easy to spot quickly. If this is on the label, read the ingredients list to double check that aspartame is included because not all foods that contain phenylalanine contain aspartame. However, all foods that contain aspartame contain phenylalanine.
Other Alternatives
If you'd like to cut down your sugar intake, you can simply eat fewer sweets and purchase versions of products with less added sugar. Check labels and choose the brands made with the least sugar. There are also other nonnutritive sweeteners you can use instead of aspartame, such as neotame, acesulfame K, sucralose and stevia, while you work on reducing your consumption of sweets and other foods containing added sugars.