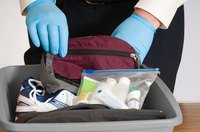 How to Pack for Airport Security. Packing for air travel became utterly confusing after the horrible events of 9/11. Officials made many changes to what you may bring in carry-on bags or pack in your luggage. In the years following the attacks of 9/11, a number of these initial post-9/11 airport security rules changed, leaving many air travelers confused. Follow these steps to know how to pack when you travel by air.
Things You'll Need
3.4 ounce toiletry containers
Quart-sized, clear resealable baggie
Carry on toiletries and liquids in travel-sized bottles. To carry on, you must place each liquid in a 3.4 ounce or less container. All your containers must fit into one, quart-sized, clear, resealable baggie. And you may only carry on one baggie per passenger. Find exceptions, such as medications, on the Transportation Security Administration's (TSA) website.
Check or carry on such electronic devices as cell phones, cameras, camcorders, laptops, pagers and personal data assistants (PDA's). Make sure you pack undeveloped film and cameras housing undeveloped film in carry-on bags, as checked baggage screening damages film.
Pack your semi-sharp personal items in either carry-on or checked baggage. Such items, which previously were banned in carry-on bags but are no longer, include nail clippers and files, tweezers, knitting needles and scissors with blades shorter than four inches.
Bring gifts for friends and family unwrapped in both carry-on and checked baggage. For security measures, TSA officials may need to unwrap anything they find suspicious.
Declare any firearms and ammunition to the airline before packing them in checked luggage.