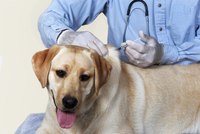 You might not trade Fido or Fluffy for a million bucks, but that's not how a pet life insurance company would value him. Pet life insurance, otherwise known as mortality insurance, is usually available only for the most valuable of animals. That includes show, breeding and competition pets with the ability to earn money, as well as working animals that already earn money. The ordinary cat or dog doesn't have the dollar value of these high-dollar animals.
Pet Life Insurance
If your pet is objectively worth a lot of money -- based on the animal's current earnings, its earnings potential or its value on the open market -- contact an insurance company that offers animal mortality policies. While some major insurance companies, such as The Hartford, offer these policies as of publication, most animal mortality policies are only available from specialty insurers. The policies reimburse you in the case of death, theft or certain accidents or illnesses. If you own a trained service dog, such as a guide dog, you might insure your dog for disability or loss of use. While insurance premiums vary, expect to pay a certain percentage of your dog's value annually -- perhaps 6 percent -- to obtain full mortality coverage. As with other types of insurance, it's possible your credit rating will affect your premiums, with a poor rating resulting in higher payments.
The Application Process
In addition to filling out basic application information -- the animal's registered or commercial name, breed, your name and address, contact information, the name and address of any co-owners and the percentage owned -- you might have to produce competition and breeding records, along with the animal's medical history. The insurer must verify that your animal is worth the amount of coverage requested. This process might include an agent's inspection of the animal in addition to reviewing your own documents. For an animal that doesn't earn money through breeding or commercial activities, such as a highly trained service dog, you can have the agency certifying the dog document his replacement costs.