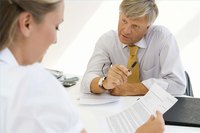 How to Get a Short-Term Personal Loan. Usually featuring slightly higher interest rates to reflect the short repayment term, banks and other financial institutions offer short-term personal loans to borrowers in need of quick cash. The downside of a short-term personal loan is that the maximum loan amounts are usually relatively small.
Things You'll Need
Good credit
Loan Application
Assets to use as collateral (may be needed depending on the loan amount)
Get a Short-Term Personal Loan
Find out if your regular bank offers short-term personal loans as part of its loan program. Your best chances to get good terms on your loan will come from an institution where you're an established client.
Determine what collateral you have to offer the lender in exchange for securing your short-term personal loan. Not all lenders will demand collateral, but banks might, especially for larger loans.
Improve your credit rating before your request a loan if you have a shaky credit history. Lenders tend to only approve borrowers with good credit for short-term personal loans.
Remember that online lenders will only offer relatively small amounts for short-term personal loans. If you need to get more money, a bank or credit union will probably be your only option.
Shop for your loan, keeping in mind how much money you're looking to borrow and comparing terms based on that amount. Look into fees and penalties associated with the loan terms, in addition to interest rates.
Fill out the loan application, providing whatever personal information (employment situation, monthly income and collateral potential) the lender asks for. The lender will run a credit check upon receipt of your application.
Expect that your interest rate will be inversely proportional to the length of the term. That is, the shorter the payback term, the higher your interest rate will be. Most short-term personal loans will have a payback term of less than 5 years.
Seek funding elsewhere if your application is rejected. Have the lender explain the reasons your application was not approved, and search for a lender who will be more likely to accept your application, even if it means you'll have to get the loan at a higher interest rate.