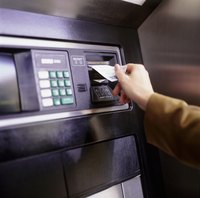 Automated teller machines are a convenient source of cash, but using an ATM that doesn't belong to your bank typically results in not one, but two fees. Your bank hits you with a fee for using another bank's ATM and the bank that owns the ATM charges you as well. Bankrate.com reports that these combined fees averaged $4.35 per transaction as of 2014.
Getting Fee-Free Cash
Download your bank's cellphone app, which likely includes an ATM locator. The locator points you to the bank's closest ATM, where your transaction will be free. If your checking account is at a credit union or a small bank, ask if it is part of an affiliate ATM network. If so, you can use an affiliate ATM without being charged fees. Another option is to open a checking account with an online bank or brokerage firm. Online financial institutions usually don't charge fees for using an ATM and some even reimburse you if the bank that owns the ATM charges you a fee. One simple way to avoid ATM fees is to get cash when you go to the grocery or pharmacy. As long as you make a purchase, stores typically allow you to request cash when you pay with a debit or credit card, and there are no fees.