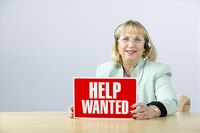 How to Recruit IT Professionals. In an industry that moves at the speed of the latest technology, many hiring managers and human-resources professionals may be stumped when it comes time to recruit IT professionals for their companies. Fortunately, knowing what to look for in up-and-coming industry professionals and tapping into the right sources to recruit them does not take a degree in rocket science.
Things You'll Need
Job description
Online networking website account
RPO (recruitment-process outsourcing) firm referrals
Recruitment-incentive program
Recruitment plan
Use Old and New Technology to Recruit IT Professionals
Put together an up-to-date job description by determining what knowledge in software applications or programming languages is required of the ideal candidate. Since technology in your industry may shift rapidly, soliciting the assistance of well-informed members of your staff may be required.
Utilize your existing network of contacts to put the word out that you are hiring. These may include clients with whom you have a good relationship, independent IT recruiters you have worked with in the past, industry professionals you are acquainted with through membership in professional organizations and your personal network of friends and family.
Tap into the job-seeking resource most used by IT professionals by advertising your open positions online. From job-posting boards like Craigslist or Monster to online-networking sites like LinkedIn, you can reach more potential hires by posting an accurate and well-worded "help wanted" ad online.
Enlist the support of your staff to recruit IT professionals by offering an incentive program for identifying successful candidates for the position. You can build a program that rewards successful, long-term placement of candidates referred by your existing staff. Outline the details of the program in a company-wide meeting, and follow up with regular job-posting announcements.
Get involved with a job fair program at an IT school or university with a strong IT program. These programs are generally day-long events requiring preregistration and the payment of a fee to participate. You can make the most of the event by equipping your staff with company information and the ability to interview potential candidates on site during the event.
Solicit the assistance of an RPO firm that specializes in IT jobs to outsource your recruiting needs.