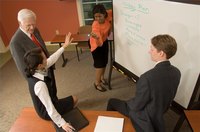 How to Provide Employee Workplace Communication Training. Few people work in a vacuum. Whether your workplace is an office or your living room, workplace communication is inevitable and unavoidable. Unfortunately, often this communication breaks down. Employers can help by providing communication training to teach employees how to interact in the workplace.
Provide Employee Workplace Communication Training
Expand your definition of workplace communication. Communication in the workplace takes many forms beyond verbal interaction. It applies not only to how people speak with one another but also refers to overall literacy and numeracy. Including these other ideas will help you to address global communication issues with your employees, such as being to read a financial spreadsheet or compose a grammatically correct memo.
Target your training to your audience and teach them to do the same, presenting written and verbal information in a vocabulary, tone and style appropriate to the people to whom you are speaking. Effective communication is about connecting with your audience on their level. While you may speak and write informally and joke while training your coworkers, a more formal tone and structure is appropriate when interacting with high-level management or customers.
Teach and demonstrate active listening skills, emphasizing the need to be genuinely engaged in a speaker's words without interruption. Active listening requires that a listener show, both by body language and her response to her conversant, that she has heard and understands the content of what has been said. An employee who is an active listener will be more proactive in preventing conflict, as she will be able to ask for clarification before a misunderstanding occurs.
Provide employees with the tools they need to be successful in non-verbal communication. Provide them with examples of how forms need to be completed, appropriate templates for interoffice memos and resources to turn to when they have questions. Consider creating a shared library of dictionaries, thesauruses or job-specific manuals.
Address differences that affect communication and brainstorm solutions to creating more effective interactions. Research has shown that women and men have very different ways of approaching conversation, and cultural differences affect communication as well. Understanding that something might be considered inappropriate in a certain culture--or that not responding immediately to a conversation is a sign that someone is thinking--can help ward off anger and miscommunication.
Create an environment that encourages open communication. An employee who is able to express concerns and ask questions is likely to be a more productive worker.