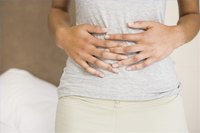 How to Cope With Appendicitis Pain. An infected or burst appendix is likely to feel like the worst stomach pain you've ever had. And, like a stomach disorder, the pain is usually accompanied by nausea, cramping, swelling and a loss of appetite. Because pain killers and other drugs can mask or complicate the appendicitis, it is important for you to cope with the pain on your own. Here are a few ways to do so safely.
Try your best to identify the pain as coming from the appendix. While you will not be able to make a diagnosis on your own, you should note if the pain is coming from what's called the McBurney point, which is halfway between your hipbone protrusion and navel on your right side. Knowing with some degree of certainty that the pain is appendicitis will help you take the right steps to cope.
Lie down on your back. Lying down will take some of the strain off your body and the painful areas of your abdomen. Also, you will reduce the chances of causing further injury to yourself if you are laid up.
Try to keep as still as possible. Any kind of pressure on your abdomen will cause you greater pain, so it's important to try to keep the area isolated and untouched for you to cope with the pain. Also, coughing and sneezing, while often unavoidable, make the pain worse so if you can refrain from these reflexes you will be better able to deal with the pain.
Distract yourself. Since taking medications or enemas is discouraged for patients with appendicitis, the best thing you can do is try to keep yourself distracted. If the pain comes in waves, then focus on getting to the end of the wave. In between spikes of pain, put the television or some soft music on to help you relax.