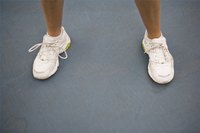 How to Stop the Spread of Athlete's Foot. Athlete's foot is caused by a fungus that thrives in warm, moist places. It's usually found between the toes. Treatment should focus on stopping the spread of athlete's foot because it can be difficult to treat in other areas of the body. Follow these steps to stop the spread of athlete's foot.
Wash your feet daily, in cool water if possible, and thoroughly dab them dry. Dry the areas between toes.
Make sure your socks are clean. Wear cotton socks and change them often.
Use athlete's foot or anti-fungal medication on the infected areas to help prevent spreading. These medications are available over the counter or prescribed by a physician.
Alternate your shoes, wearing different pairs if possible. This action will allow shoes to dry out between wearing and kill any fungus inside them. You may even want to place them out in the sun. Dust them with unscented foot or talcum powder.
Wash sheets regularly. Athlete's foot can spread to other parts of your body, such as the armpit or groin, through contaminated sheets.