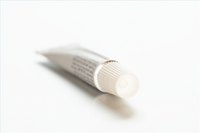 How to Treat Condyloma Acuminatum. Condyloma acuminatum, or genital warts, are caused by certain strains of human papillomavirus (HPV). The warts can be tiny bumps that occur in clusters or develop into larger gray, pink or red masses. Condyloma acuminatum are often more pronounced in women, who can get them in the genital and anal areas. Men often find them on the tip of the **** or on the anus. Consider these treatments if you suffer from this condition.
Apply podofilox 0.5 percent liquid or gel to condyloma acuminatum. It's a common agent because it's relatively inexpensive, safe and you can put it on yourself. You might feel some irritation after applying it, though.
Consider using imiquimod if podofilox doesn't help or is too irritating. You apply it once at bedtime three times a week and wash it off the next morning. However, you could still get irritation from it.
Try trichloroacetic acid (TCA) or bichloracetic acid (BCA) if it doesn't burn too much. Your provider will apply the liquid carefully to prevent scarring. It's more appropriate for small warts.
Have your provider apply podophyllin if TCA or BCA don't help. It takes skill and care to apply it because it can cause irritation and even toxicity if it spreads to skin areas surrounding the warts.
Go for cryotherapy with liquid nitrogen if you have little patience for ongoing treatment. It's less expensive than other surgical options, safe and freezes them right off. It's more painful than topical methods, however.
Ask about electrocautery if you don't mind topical anesthesia. This burns the condyloma acuminatum, though your provider has to be careful not to cause scarring of the surrounding skin.
Supplement your HPV treatments with natural remedies. The immune system is supposed to clear the virus in 8 to 13 months. An immune booster like echinacea can keep symptoms from recurring in some people.