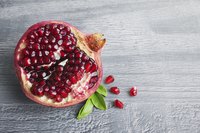 Pomegranates may have some health benefits, including potentially lowering your risk for diabetes, cancer and high cholesterol as well as acting as an antioxidant and anti-inflammatory, according to a review article published in Comprehensive Reviews in Food Science and Food Safety in November 2010. A 1/2-cup serving of pomegranate arils, or seed sacs, provides you with 14 percent of the daily value for fiber, 15 percent of the DV for vitamin C and 18 percent of the DV for vitamin K.
Extracting the Arils
Before you can eat pomegranate arils, you need to remove them from the fruit. One easy way to do this is to use a knife or fork to break the fruit into multiple sections, then hold the pieces over a bowl of water and tap the back of each piece with a strong spoon to knock out the arils. Any of the white part you don't eat that comes out will float to the top, making it easier to separate from the edible arils, which sink to the bottom.
For Breakfast
The simplest way to add pomegranates to your breakfast is to sprinkle a handful of arils into your hot or cold cereal. You could also use pomegranate to top off waffles or pancakes or make muffins containing the arils. You can use either pomegranate arils or pomegranate juice in smoothies if you prefer to drink your breakfast. The arils are healthier than the juice, however, because juice contains significantly less fiber.
For Lunch or Dinner
Add pomegranate arils to spinach salad, and you'll absorb more of the iron in the spinach due to the vitamin C in the pomegranate. Top butternut squash soup with a handful of arils to increase your fiber intake. Mix pomegranate arils and cranberries to form a relish for top meat or poultry, add pomegranate arils to a Greek yogurt-based chicken salad for a pop of flavor, or make a Persian chicken stew with pomegranate arils or juice, ground walnuts, onion, butternut squash, cardamom, cinnamon and saffron.
For Snacks or Dessert
Top 1/2 cup of plain or vanilla low-fat yogurt with pomegranate arils, or add the arils to your favorite guacamole recipe. You can also make a salsa with pomegranate, cucumber, cilantro, lime, onion and jalapenos or a fruit salad with apples, walnuts and pears. Include pomegranate arils in your favorite apple crisp recipe or layer them with low-fat yogurt and low-fat granola to make a delicious parfait.