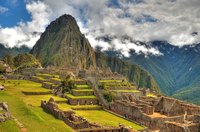 Spin a globe, close your eyes and let your finger fall where it may, or methodically plot the beginning of a trip around the world by weighing how many days and dollars you can spend on the road with dream destinations. Plan your trip around the world with safety in mind, keeping your schedule just loose enough to take detours.
Time and Money
Like a smorgasbord at an international buffet, there are countless combinations of how you can travel the globe. Tailor to how much time you want to spend on the road and how much money you want to spend in the process. You could zoom around the globe in a week's time on a series of flights, touching down overnight in a handful of key cities. You could spend months backpacking across Europe, Asia and South America, spending little to camp or bunking in bargain hostels. Determine your perfect dates, taking into account what the weather will be like in your ports of call, and ascertain how much time you and any traveling companions want to take off work. Compile a budget that accounts for transportation, food, lodging and emergencies; consider destinations where you get the best deal for a U.S. dollar.
Points on the Map
Map out your dream destinations. Perhaps you're intent on checking off the new seven wonders of the world, a list picked by voters in 2007, ranging from Machu Picchu in Peru to the Great Wall of China. A thematic trip could focus on anything from cities mentioned in great works of literature to settings of James Bond flicks. If you're an outdoor enthusiast, focus your journey on legendary places to hike, camp and enjoy stunning sunrises; animal lovers can focus on seeing creatures prowl their natural habitats in the greatest national parks on the planet. If you're just looking for a trip off the beaten path, get out your map and connect the dots between some of the most remote places on Earth, such as tiny Nauru or an island in the Sea of Okhotsk.
Modes of Transportation
Pick a mix of modes of transportation to get you around for the best deal. You won't see as much flying to each location, but you'll be able to cover more ground in a shorter amount of time; check with the Star Alliance, which sells a round-the-world ticket incorporating 27 airlines and your choices from 192 countries. Cruising takes longer, but you'll enjoy the view from the deck and ports of call on a vessel with meals included. Road-tripping puts you right in the heart of a region's everyday life, but you'll find that driving and road conditions can be much more dangerous in some countries. You may opt for tour buses or rail for part of the journey, where you can meet fellow travelers and experienced guides. Make reservations for your must-haves, such as flights or key resorts, but leave a bit of room in your itinerary to explore unexpected or additional stops along the way.
Get Packed
Have all of your travel documents, including passport copies and necessary visas, ready to go along with any vaccinations recommended by your doctor and travel insurance. BBC Travel recommends packing as if you're going on a two-week vacation, with stops planned where you know you'll be able to launder clothes. Make sure your wardrobe is prepared for climate changes with shoes and a crushable jacket to weather the elements.
Be Safe
Research intended destinations with the U.S. State Department's country-by-country guides. Keep in mind that security situations can be fluid and so must your travel plans. Substitute safer stops for regions that are prone to frequent or long-term travel warnings; for instance, go to Petra in Jordan instead of Babylon in Iraq. Some countries are best traveled with a partner for safety reasons, and some regions offer a not-so-friendly reception for women traveling alone. Carry contact information for the U.S. consulate in each of your stops, and register with the Smart Traveler Enrollment Program to get real-time State Department alerts.