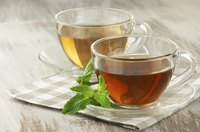 Tea isn't a weight-loss miracle beverage, but regularly drinking certain types of tea in place of other, higher calorie beverages as part of a reduced-calorie diet may help increase your weight loss slightly. Check with your doctor before starting any weight loss program or greatly increasing your consumption of tea to make sure it is safe for you.
Type of Tea
Opt for green tea over black or herbal teas, as more research points to potential benefits for this type of tea. For example, people who drank green tea lost more than 7 pounds over the course of three months than people who ate the same diet but didn't drink green tea in a study published in Physiology & Behavior in February 2008. Antioxidants in tea called catechins may be partially responsible for the benefits of drinking green tea.
You'll also probably get more weight-loss benefits if you drink caffeinated tea than decaffeinated tea, as caffeine may help increase the amount of calories you burn at rest. You may want to limit yourself to no more than 5 cups per day, however, or the caffeine could cause adverse effects. If you want more tea than this, make the rest of your teas decaf.
Preliminary research shows the herbal tea mate may also be helpful for weight loss, perhaps because of the high amount of caffeine it contains, according to a study published in the Biological and Pharmaceutical Bulletin in 2011. This research was done using mice, however, so further research is necessary to verify mate has the same effect on people.
Importance of Diet
Don't count on green tea as your only means of weight loss, however, as the amount of weight lost due to green tea consumption is very minimal, according to a review article published in the Cochrane Database in December 2012. You'll need to make dietary changes as well to experience any significant amount of weight loss.
Watch your portion sizes, eat slowly and only when hungry and plan your meals ahead of time to make it easier to cut calories and lose weight. Aim to eliminate 500 to 1,000 calories per day to lose about 1 to 2 pounds per week, but don't go under 1,200 calories per day if you're a woman or 1,800 calories per day if you're a man, as this could slow down your metabolism and make it hard to get the nutrients you need to stay healthy.
Eating plenty of foods that contain lots of water or fiber but not a lot of calories per gram, such as fruits, vegetables, soups, whole grains and lean protein, can help you fill up without going over your daily calories. Limit or avoid foods high in fat or sugar.
Benefits of Adding Exercise
If you don't exercise while following a weight-loss diet, about 25 percent of every pound you lose will be muscle instead of fat. Participating in strength-training exercises will help ensure more of your weight loss comes from fat. A study published in the Journal of Nutrition in February 2009 found that drinking green tea helps increase the amount of belly fat lost due to exercise and helps lower triglyceride levels compared to drinking a caffeinated beverage that doesn't contain the beneficial antioxidants called catechins found in tea. Black tea won't be as beneficial, as the extra processing it undergoes compared to green tea removes some of the catechins it contains.
Potential Considerations
The best way to use tea to promote weight loss may be simply to drink it in place of other, higher-calorie beverages, such as juices, sodas and energy drinks. Tea is naturally free from calories, but be sure to take into account any calories from what you add to the tea, such as sugar, honey, milk or cream.
Although there are a number of herbal diet teas on the market for weight loss, these aren't necessarily a safe or healthy way to lose weight, according to Columbia University Health Services. They often contain laxatives, such as aloe, buckthorn, castor oil, rhubarb root or senna, that can cause diarrhea or vomiting and may leave you dehydrated or cause fainting. Other times these teas contain ingredients high in caffeine, including kola nut, ma huang and guarana, which are meant to suppress the appetite but may cause anxiety, insomnia, headaches and restlessness.