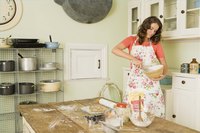 How to Cook With Brewer's Yeast. It's amazing to think there could be anything nutritious about a fungus that grows on molasses and floats in the air around us. But brewer's yeast, and its better tasting cousin, nutritional yeast, are great sources of B vitamins and can help regulate blood sugar. There are several different ways to use and cook with these yeasts so you and your family can enjoy their many benefits.
Sprinkle on popcorn a mix of the yeast with different varieties of salt, granulated garlic, curry powder, chili powder or dill.
Add up to two Tablespoons to a pot of soup, a pinch of curry or turmeric and some parsley flakes. The rule of thumb for adding yeast to soups, sauces and gravies is 1/2 teaspoon per 1 cup liquid.
Mix in 1 Tablespoon per 2 cups of vegetables, beans and burgers.
Use 1 teaspoon brewer's or nutritional yeast along with each cup of flour in baked goods, especially breads.
Get creative. You can make a yeast and cheese pizza or sprinkle it on top of lasagna, macaroni and cheese side dishes or green salads.
Boil and mash four or five potatoes, then add 2 Tablespoons yeast, 1 Tablespoon olive oil, parsley flakes and salt and pepper for a new twist on an already-great nourishing dish.
Stir in brewer's yeast with your cat or dog food. And add it to the dough when making homemade doggie or kitty biscuits to help eliminate fleas, promote healthy coats and provide all-around nutrition.