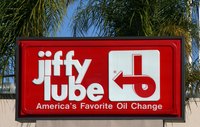 Even though Jiffy Lube, a Pennzoil-Quaker State Company subsidiary, acknowledges upfront that opening a new franchise is a complex process, the company stresses that once you do the benefits are numerous. In return for a cash investment, strong business skills and an ability to follow an established business system, Jiffy Lube provides training, support and national fleet business referrals.
Take an Online Tour
Visit the Jiffy Lube website, and from the "About Jiffy Lube" section in the navigation bar select "Franchise Information." Complete and submit the form to request more information. In addition to mandatory contact information, you may provide an estimate of the amount you have available to invest and an estimate of your current net worth, but these estimates are not required. After your request is received, a company representative will contact you by telephone and provide a link to an informational site via email.
Understand Franchise Costs and Fees
According to Franchise Direct, a franchise information directory, 2013 start-up costs for a Jiffy Lube franchise ranged from $196,500 to $376,000. The majority of this amount was for equipment, signs and fixtures, and a six-month cash working capital reserve. Additional fees and expenses, including royalty fees, hardware support, and corporate and local advertising, can increase your investment to between $220,000 and $400,000, not including any real estate development costs. For this reason, Jiffy Lube recommends that have you have a personal net worth of $450,000 and liquid assets of at least $150,000.
Sign the Franchise Agreement
The terms of the initial franchise contract cover a period of 20 years. After that, you have the option to renew the franchise agreement for up to two 10-year periods. Once you sign the contract, the company will not open another franchise within 3 miles of your location. However, you can open another franchise within that territory. The agreement prevents you from offering unauthorized products or services.
Attend Initial Training
Jiffy Lube franchise requirements include three weeks of initial training at a designated off-site location before you can open for business. Topics include operations safety, environmental issues, product knowledge, customer service, vehicle maintenance and management training. If the franchisee and store manager are two different persons, the franchisee must attend the first week of training and the store manager must attend all three weeks. For employees, Jiffy Lube offers optional Automotive Service Education certified training via the Jiffy Lube University. Training expenses that the franchisee or its employees must pay range from $1,000 to $5,000, according to Franchise Direct.