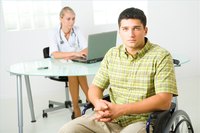 How to File a Disability Claim. No one wants to think about filing a disability claim, but sometimes there is a need for them. Hopefully, it is only for a temporary disability and not a permanent one. You will be grateful for disability insurance if it does happen, because you will at least have some money coming in while you can't work.
Things You'll Need
Get a disability form. This can be obtained from the Department of Labor in your state. You should be able to print the form from their website.
Fill out your part of the form. Some of the information you will need to provide should be collaborated with your doctor, since he has the records. You may need to put in the dates you were hospitalized and/or all treatment you have received from the doctor of record (usually your primary) as well as any specialists you have seen for your medical condition.
Have your doctor fill in his portion of the form. This will be the diagnosis part of the form and must be filled in by a practicing physician. He should give a definite diagnosis or the claim may be denied.
Get other supporting documentation to go with the form. If you were hospitalized or if you were treated by a specialist you should include this information since it will be helpful in supporting your claim for disability.
Have your employer fill out their part of the disability form. The employer must do this so that the disability department knows how much to pay you. Do not expect your salary, it will only be a portion of it. Disability has a cap on the amount they pay.
Send the filled in disability form to the Department of Labor Temporary Disability Department (TDI). You will then need to wait. If there is a problem with the form they will send it back to you with precise instructions on what is still needed. Hopefully it won't be too long before you receive a check.