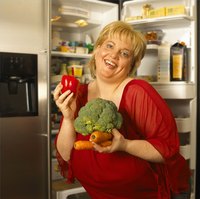 How to Stop Overeating. Just because it tastes good isn't a reason to eat until you're uncomfortable. There are some simple steps that can be taken to stop overeating everyday. Once you make your commitment to controlling your appetite, you're on your way to success.
Drink a lot of water. Water good for you and it fills you up. When your stomach feels full from drinking water, your hunger urges are fewer.
Evaluate your hunger. At the beginning of your meal, evaluate your hunger. Do this again halfway through your meal. Most of the time we don't think about it again until the meal is finished. Unlike when you were a child, you don't have to clean your plate.
Change activities. If you're eating simply because you're bored, get up and do something. Change the activity you're engaged in.
Wait a few minutes. After feeling those first hunger pangs, make the decision to wait for 10 minutes. If you're still hungry after the interval, you probably need to eat. However, hunger pangs could merely mean you're bored and need a break from some task.
Eat slowly. Studies have shown that satisfaction levels take 12 minutes or more to reach the brain in a thinner person, but take 20 minutes or more to get to the brain if you're overweight. Eating your meal more slowly will help your stomach catch up with your brain.
Make your meal your task. Don't eat while driving, working or doing something else. Your mind is typically on the other task and not on your meal. You don't realize when you're full when you're not paying attention.
Savor the first bites. It's been proven that taste buds lose their sensitivity as your meal progresses. Savor the first few bites of your meal. By doing this, you satisfy your craving for that particular food more fully.
Use a smaller plate. Our brains react to visual cues. If it appears that our smaller portions are small on a large dinner plate, our brain is apt to think that it's not enough food. However, if you put the same amount of food on smaller plate, it appears like a full plate of food. Fool your brain into thinking your portions are larger.
Choose satisfying foods. Foods that are high in calorie, but small in portion are not going to be satisfying. Select foods high in protein and high in fiber.