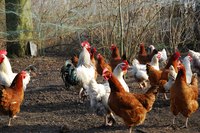 In general, chicken owners employing good coop management practices experience few problems with disease -- but some chicken diseases are threats in specific parts of the country. To determine whether you should vaccinate a flock, contact chicken farmers in your area, your U.S. Department of Agriculture state veterinarian, or a university extension service to learn which chicken diseases are prevalent where you live. Vaccinating chicks requires experience. If you haven't administered vaccines in the past, seek the assistance of your veterinarian.
Managing Marek's Disease
Marek's disease kills more chickens each year than any other poultry disease. This highly contagious ailment, which causes paralysis, blindness and death in up to 80 percent of the specimens in an infected flock, has no cure. Particularly important in the Pacific Northwest, where Marek's thrives, vaccination becomes the most important method of prevention. Since vaccination takes place at just 1 to 2 days of age, most chicks purchased from a commercial hatchery already have been vaccinated for Marek's. If you raise your own hatchlings, purchase Marek's disease vaccine from your local farm supply store to administer at home, or ask your veterinarian to vaccinate your chickens for you.
Preventing Other Ailments
In addition to Marek's disease, several other diseases occur sporadically in chickens throughout the United States including fowl pox, Newcastle disease, infectious bronchitis, avian influenza, infectious coryza, mycoplasmosis, infectious laryngotracheitis, infectious bursal disease, avian encephalomyelitis, infectious tenosynovitis and fowl cholera. It's advised that you vaccinate only for diseases prevalent in your area, to keep vaccines effective. Talk to your local veterinarians or your USDA state veterinarian to determine if your chickens are at risk of contracting any of these diseases.
Protecting Your Flock
If you've never administered a vaccine, first seek guidance from your veterinarian. Most vaccines include two vials. One contains a dry vaccine wafer and another contains dilutant. Store the dry vaccine in a refrigerated environment, below 45 degrees Fahrenheit, until ready to use. To vaccinate, use a 3 ml syringe and withdraw a full syringe of dilutant. Inject the dilutant into the vaccine vial and gently swirl to mix. Inject 2 to 3 ml of air into the vaccine vial to break the vacuum, then withdraw the entire contents. Inject the diluted vaccine into the bottle of dilutant and gently swirl, mixing completely. Have a helper gently cup a chick in his hands, facing away from you. Swab the chick's neck with rubbing alcohol on a cotton ball. Using a 1 ml syringe, withdraw the appropriate dosage as instructed by the vaccine manufacturer or your veterinarian. Pinch a small fold of skin behind the chick's neck and insert the needle just beneath the skin. Depress the plunger completely to inject the vaccine and quickly withdraw the needle. A small bump may form beneath the skin, which is normal. Place the chick back in the brooder and discard any unused vaccine once all chicks are vaccinated.
Deciding Against Vaccination
While vaccinating chickens may be considered acceptable under organic management practices, many chicken owners decide against vaccination. The most common reasons for not vaccinating include a lack of awareness regarding diseases among the flock, not knowing where to purchase vaccines or not wanting to purchase such a large amount of vaccine for only a few chickens. Vaccine vials usually contain 1,000 doses, designed for use in commercial hatcheries. If you decide not to vaccinate your chickens, you must ensure they remain sequestered from other poultry. Resist adding new members to the flock and disinfect shoes, tools and other items before allowing them to enter the coop.