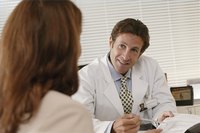 How to Donate Eggs. Donating your eggs is a wonderful gift you can give an infertile couple. Donated eggs allow couples who would've never had a chance to give birth an opportunity to become pregnant and carry a healthy fetus to term. In addition, women who donate eggs can receive some monetary compensation. But there are many steps that you have to follow in order successfully donate eggs.
Make sure you fit the general criteria before you try to donate. Most donor programs require donors to be 21 to 35 years old, in good health, at a good weight for your height, have a regular menstrual cycle and with no known genetic disorders within their family history. Women who smoke or have drug or alcohol problems are ineligible. Some donor programs prefer that you have given birth prior to donating eggs.
Do your homework. Most donor programs want donors that are local, so look only at donor programs close to your home city. One place to look for a donor program is with the Society for Assisted Reproductive Technology (SART).
Contact the donor company. You have to fill out a complex application. This application will ask about your family history, your ethnic and religious background, your schooling and your health. Expect questions about your physical characteristics and your interests.
Have a medical exam done, usually by the donor program. The medical exam is invasive, and you will have a pelvic exam, a physical examination, a blood test, a test for sexually transmitted diseases and at least one (probably more) psychiatric examinations. If you have a sexual partner, he may also need to be tested for STDs.
Sign a donor agreement. The donor agreement is different in each state, but in most of them you agree to give up any parental rights from the donated eggs and what agree on compensation. Have a lawyer check out this agreement to make sure you understand everything.
Start the donor cycle after a couple accepts you. During the donor cycle, you will be taking many different fertility drugs, so you produce many eggs. You will also be going through blood tests and ultrasounds so the donor program can successfully harvest your eggs.
Get your eggs harvested. Some programs use general anesthesia for the harvesting, while others use simple sedation. Be sure you understand how your eggs will be harvested and you know the pros and cons.