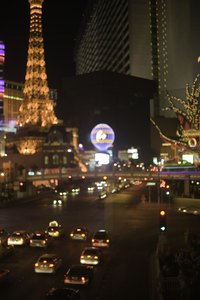 Sin City sparkles and hums as the sun sets and its mega-clubs come to life. Light's multi-story LED wall crawls with Cirque du Soleil performers, XS quenches with nighttime pool parties and Chateau blasts beats onto the Strip from a replica Eiffel Tower. All the extravagance costs money, and you're expected to pay for the experience. But there are a few ways to get in for free.
Educate Yourself
Bright yellow Las Vegas Weekly magazine bins sit all over Sin City's roadsides just off the Strip. Flip through the pages of the magazine to the Club Grid, a weekly calendar listing every event at each club on the Strip. Each day the grid will show the cost of admission, occasionally listing entry as free. Go to your favorite free event. But to get in for free on a Friday or Saturday, you'll have to work a little harder.
Ask the Concierge
It's difficult to skip the cover in Vegas, especially on the weekends. But you can try to talk to a host as the club sets up for the night around 7 p.m. You can also ask the concierge or front desk of your hotel for a free pass to the property's clubs. You can gamble big at the property's casino in hopes that you'll score comped admission. Or you can sign up for the property's rewards program, rack up some points and redeem them. But, in the end, every club desires women. Bouncers may just admit a party with enough ladies.