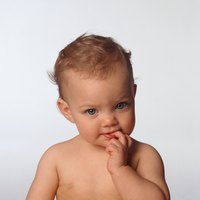 Babies with exposed skin outdoors are at risk for mosquito bites. Mosquitoes frequently bite areas such as the neck, hands and ankles. The bites can cause uncomfortable itching and swelling, which can be difficult for a baby to deal with, especially a young infant who is unable to communicate. Remedies that work for adults may be unsafe to use on babies, so special precautions need to be taken when treating mosquito bites on an infant.
Things You'll Need
Soap and water
Cold washcloth
Ice pack
Baking soda paste
Calamine lotion
Nail clippers
Clean the area where the mosquito bit the baby with warm, soapy water. This will soothe the baby and remove any blood left by the biting mosquito.
Apply a cold washcloth to the bite to relieve itching and reduce swelling. An ice pack will also work to reduce discomfort, but wrap a towel or washcloth around the ice pack to prevent the ice from being too cold on the baby's skin.
Apply Calamine lotion to the bite to stop itching. Create a thick paste with baking soda and water if lotion is not available. Apply a small amount to the affected area only.
Cut the baby's fingernails to keep the child from scratching the bite open. Bloody, exposed mosquito bites are at greater risk for becoming infected. Scratching the bite could also cause bacteria from under the baby's nails to get into the mosquito bite. Clipping the baby's nails will also prevent the baby from getting a scar.
Monitor the bites for 24 hours, checking for excessive swelling or drainage. Continue to apply cold washcloths and lotion for as long as the baby appears to be uncomfortable. The bites may take weeks to disappear completely.