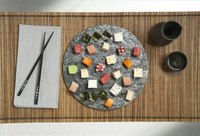 How to Eat Healthy at Tokyo Joe's. If you are looking for a healthy alternative to fast food, Tokyo Joe's is for you. It isn't hard to eat healthy at this restaurant, so long as you check calorie, fat and carb content. Follow these steps to eat a nutritious meal at Tokyo Joe's.
Salads and Sushi
Order a side salad with tangy Tokyo dressing. With the dressing the salad is 40 calories, 1 grams of fat and 7 grams of carbs. If you choose the sesame dressing, which is the most fattening dressing on the menue, you will increase your calories by 100 and double your fat intake. You can also choose to have the Sunomono (cucumber salad) which is 47 calories, 2 grams of fat and 11 grams of carbs.
Eat four pieces of sushi with your salad. Four tuna rolls are only 14 calories more than the veggie rolls, plus you get a little extra protein. The total nutritional value of the tuna rolls are 164 calories, 3.5 grams of fat and 24 grams of carbs. If you don't like tuna, try the chicken for just 23 more calories.
Choose a big salad if you'd rather just have that as your meal. The Tokyo Chicken Salad with Tangy Tokyo dressing is 335 calories, 10 grams of fat and 31 grams of carbs. Again, the sesame dressing is more fattening and if you had that instead, your salad would be 602 calories, 43 grams of fat and 25 grams of carbs.
Build a Bowl Entree
Start with your choice of brown or white rice if you'd rather have Toyko Joe's famous Build a Bowl entrée. For regular size, white rice is 285 calories, .5 gram of fat and 63 grams of carbs. For brown rice, you'll get 256 calories, 2 grams of fat and 52 grams of carbs.
Add your protein to your bowl by choosing meat, veggies or both. The veggies are 141 calories, 2 grams of fat, 8.5 grams of protein and 24 grams of carbs. The white chicken meat is the least fatty of their meat choices at 165 calories, 3.5 grams of fat 31 grams of protein and no carbs. To add the extra veggies, add 71 calories 1 gram of fat, 4 grams of protein and 12 grams of carbs.
Choose your sauce from among six choices. The Oyako is the most healthy with 44 calories, no fat and 11 grams of carbs. The peanut is the fattiest of the six with 212 calories, 18 grams of fat and 9.5 grams of carbs.