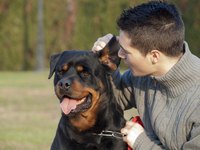 If you have regular conversations with your dog, you're not alone. Chattering with our dogs in complete sentences -- or even paragraphs -- is not uncommon. It may even seem as though your dog is listening and understanding. Dogs do understand a vocabulary of words. But they also understand your tone of voice and body language, and it's all part of how to communicate with them.
One Word Please
Don't expect your dog to understand commands in a complete sentence. Your dog will key into specific command words that you've established in training. If those words are part of long sentences, it will confuse him. Use his name followed by the command word only when you want to communicate a specific action. When issuing commands, say the command word only once. If your dog needs encouragement, clap your hands or use other words.
For instance, when training recall, say the word "here" once and then clap your hands or add, "hurry, hurry, hurry" to encourage him. Avoid words that are used frequently in everyday language when choosing command words.
Tone Counts
Speak to your dog in specific tones when issuing commands. Use a low growl when you need to correct him. Don't speak loudly or shout, but use a firm tone. Use a more active and affirmative tone when giving action commands, such as "here." Praise your dog's good behavior in a happy tone. Draw your words out when you're trying to calm or quiet your dog, and for commands such as "stay."
Body Language
Dogs are very observant and attuned to their human's body language. Begin training with teaching your dog to look in your eyes, using the "watch" or "look" command. Stand still with your dog on leash and wait for him to look at you. As soon as he does, praise and treat him. Continue this until you can phase in the command word. You will be able to get his attention in any situation if he will focus on you. Avoid hunching over your dog when you speak to him. Dogs who are shy or anxious can be intimidated by this.
Practice incorporating hand signals into language with your dog. Extend your hand to the side with a treat when teaching recall, and give the dog the treat when he comes. Reinforce "stay" with your flat hand extended toward him.
Speaking Dog
Although your dog won't understand those long sentences and conversations that you have with him, it's OK to have them as long as you aren't issuing a command. He will enjoy the sound of your voice and the interaction with you, but he won't be able to pick out command words. Use command words only when you want him to perform an action. Keep training sessions short and end on a positive note with praise. If you have other pets, train your dog one-on-one without other animals around.