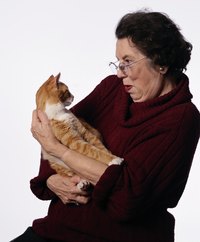 Cats can be fickle, temperamental creatures, but talking to them in either calm, excited or stern tones can help elicit the response you're looking for. In addition to learning how to talk to your cat so she responds in a desired manner, pay attention to your kitty's vocalizations and movements as well. That's her way of communicating with you.
Watch Their Body Language
Your cat can tell you a lot about her disposition and attitude if you watch her body language. Understanding the kind of mood she's in will give you an indication of the best way to talk to her. For example, a kitty with her ears laid back, her tail straight, bristles standing up and a low growl is not in a happy mood. Calm, reassuring tones can help placate her.
Excited Training Voice
Cats respond to high-pitched or excited tones, especially during training and when treats are involved. If you're using clicker training techniques or training your cat to come when called, an upbeat tone is best. It gets your cat's attention and she'll learn to associate that particular sound with good things, such as meals, playing or treats. As with all training, repetition is key.
Angry Tones
Yelling at your cat will not endear you to her or change her behavior for the better. It will only confuse and scare her and likely make her act out or hide. The same goes for punishing your cat by hitting her with your hand or an object. This is especially important to remember if you've adopted a cat who may have been abused.
Stern Voice
While it's not advisable to yell or scream at your cat, a stern tone can let her know when she's doing something she shouldn't. For example, the "no" command can be issued in a deep, stern tone followed by a subsequent action -- such as a water squirt bottle to get her off the kitchen table. Even if you're walking away to show your displeasure, use the stern word and tone so she understands you will leave when she behaves poorly.
New Kitten Speak
New kittens will respond to lots of soft, cooing sounds and physical attention. Kittens recently separated from their mothers or litter mates initially may have a hard time sleeping and may be fearful of new environments. Loud tones can startle or frighten them, but a low soothing voice can make them comfortable in their new home.