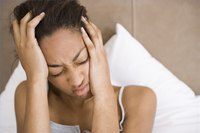 How to Deal with PMS Irritability. Although there's no cure for PMS or the symptoms that accompany it, there are several home treatments that can help to relieve the feelings of irritability associated with PMS. Certain lifestyle changes, supplements and other therapies can help improve symptoms as well as quality of life for those who deal with PMS irritability.
Things You'll Need
Soothing music
Whole-grain foods
Vitamins and minerals
Herbal supplements
Relax. Experiment with various relaxation techniques to help reduce the level of irritability you experience with PMS. Some methods for relaxing during this time of the month include massage, relaxation exercises, yoga and meditation. Listening to soothing music or taking a warm bubble bath can help you feel more tranquil and even tempered.
Exercise. Getting regular exercise can help relieve irritability by increasing the level of endorphins in the brain. Experts recommend that women who experience PMS symptoms get 20 to 45 minutes of exercise at least three times per week.
Change your diet. Try reducing the amount caffeine, alcohol and refined sugar you take in. Instead, drink plenty of water and eat more whole grains and vegetables.
Take supplements. Studies have shown that certain vitamins and minerals help to ease the discomfort of PMS irritability. Calcium supplements, for example, may help improve negative moods by affecting the hormone-producing endocrine system. Other supplements to try are magnesium, vitamin B6 and vitamin E.
Try herbs. Homeopathic remedies for PMS irritability have been shown to help improve symptoms for many women. You can take black cohosh in the form of a tea, capsule or liquid extract to help alleviate feelings of depression.
Laugh. The old adage "Laughter is the best medicine" rings true when dealing with PMS irritability. Increase the endorphin level in your brain by renting a funny movie with a friend. Or call up someone who's usually good for a laugh or two.