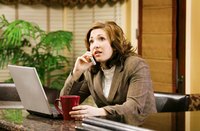 Credit card debt relief involves negotiating with a credit card company to reduce your outstanding balance. A variety of options, including both small and large concessions, can make the difference between paying a debt or filing for bankruptcy. Because some credit card companies will be more receptive than others, a positive attitude, politeness and persistence are vital to successful negotiations.
What Debt Relief Involves
Debt relief is not a quick fix. While you remain responsible for paying the outstanding balances, most options make it easier for you to make regular payments. Because your payment history and the total of your outstanding balances make up 65 percent of your credit score, debt relief actions can help preserve or improve your credit profile. All options require that you or a representative from a debt counseling service negotiate with credit card companies to either adjust monthly payments or reduce how much you owe.
DIY Debt Relief
Contact your credit card companies and work with each one directly. Negotiations can focus on small or large-scale relief actions. These include asking to change a payment date, reduce the interest rate, suspend payments temporarily or create a temporary or long-term no interest or reduced interest rate repayment plan. Be polite and persistent as negotiations often take more than one phone call. If the representative denies your request, ask for a supervisor. Nolo recommends that you keep good records for every call and always get an agreement in writing.
Work with a Debt Management Service
If credit card companies won't work with you directly, or if self-help debt relief feels too uncomfortable, professional assistance can be helpful. For a monthly fee, which is usually a percentage of the total amount that you owe, a debt management service will contact and negotiate with credit card companies on your behalf. You then send one monthly payment to the service, which in turn pays your creditors. Although much of what a debt service does is no different from what you can do on your own, it includes additional services such as credit education, counseling and budgeting help.
Debt Settlement
The Federal Trade Commission considers debt settlement a risky debt relief alternative. It involves negotiating a lump-sum payment for less than what you owe. These programs often require that you stop making monthly payments and deposit money in a special savings account. Once you save enough, the company settles your debt. However, not only does a debt settlement agreement affect your credit rating, but you will also be responsible for paying income tax on the amount each credit card company forgives.
FTC Recommendations
The FTC recommends that you research third-party debt settlement services to avoid a potential scam. For example, check with the Better Business Bureau, your state's consumer protection bureau or your state Attorney General to find out if a company you're considering has any consumer complaints on file. The FTC also says you should avoid a company that charges a fee before settling your debts or makes promises such as telling you that it can stop lawsuits or eliminate all outstanding credit card debt.