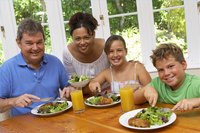 How to Develop Healthy Eating Habits. Developing the right eating habits can enhance your appearance, health and lifestyle. Here are some tips on how to develop and maintain a healthy eating regimen.
Always remember to eat breakfast. It is the most beneficial meal in the day, and the most important. Breakfast gives you body fuel for the day and keeps your energy levels up, and your mind alert.
Drink at least 8 glasses of water each day. This habit helps the body stay hydrated. It also helps in the processing of nutrients throughout the body. If you are in a much warmer climate you might want to drink much more.
Choose your snacks wisely. Choose snacks that are light and that give you an extra boost of energy throughout the day. If you are trying to lose weight, you might want to choose vegetables and fruits.
Have some lunch. Many people get busy in the day and forget to eat lunch, which then leads to overeating in the evening. If we skip lunch, our energy levels start to decrease and blood sugar goes down. Enjoy a light lunch.
Try to eat dinner earlier rather than late. Eating late makes it harder to digest food. It might keep you up at night or feeling full until the next morning. Eating at least three hours before you go to bed is beneficial to the digestive system.