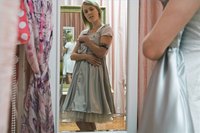 Visible panty lines, also known as the dreaded VPL, count as a major fashion faux pas. To keep your underwear hidden, you'll need to select no-show lingerie that will smooth and lift your behind without creating bumpy edges under your clothing. To create a sleek and seamless look underneath your pants, dresses and skirts, it's important to shop wisely. Buying a pair of underwear in the wrong size is an invitation for a revealing, and often embarrassing, panty line.
Wear a thong. Get rid of your panty line by eliminating it, instead of trying to hide it. Thongs sometimes take a while to get used to, but millions of women swear by their comfort.
Buy panties that have a subtle hem line, smaller stitching or are seamless. Cotton panties with large bands are guaranteed to give you a giant, noticeable panty line.
Invest in underwear or undergarments that hold in fat. Body-shaping undies usually run from your thighs to your mid-waist, so there's no need to worry about visible panty lines. Modern versions of body-shaping attire are usually made from spandex and are quite comfortable for everyday wear.
Dress in dark colors or jeans. White pants are another visible panty line guarantee. However, it's much more difficult to point out a panty line in black or brown dress pants or denim.
Go commando. The only 100% no-panty-line guarantee is to wear absolutely nothing at all under your attire.