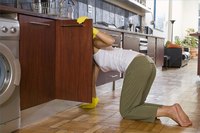 How to Run a Six Figure Cleaning Business. Cleaning is a difficult business: It involves hard work on your hands and knees for several hours at a time. The fumes from the chemicals can become hazardous to your health and there is a certain stigma against the housekeeper. But, if none of that bugs you and you are not afraid to make a lot of money, go for it. Here is a little advice.
Start out small. Many people with a cleaning business are not endowed by their creator with loads of money, so don't worry. Many entrepreneurs start small and then increase through their reputation.
Earn a good name for your business. Not the name on the side of your car, but goodwill. If you work hard and get every nook and cranny in a client's home or business, then they will tell their friends about you. Word of mouth advertising is free and very beneficial to the newbie. Work hard on a few clients.
Train new staff. You will want to duplicate yourself over and over. Come up with a good training plan. Write down everything in a manual, set policies for new employees, and formally train everyone. The manual will be a resource for the employee later to look up what they did in training. Many people are not only visual learners, but auditory learners. Hit all the learning styles through both verbal training and a manual. Write out the company policies so you can easily dismiss employees who are not up to standards. Make sure you formally train everyone, including the veterans, to your high standards. Your name is on the line here, so make sure they are living up to that name as well.
Continue to take on new clients and staff. eBay started off with one employee and in six months had 2000. Look how successful eBay is. Growth is good. Don't be afraid to take chances and be daring in how big you are willing to grow.
Consider lower prices or discounts. The cleaning business is a saturated market. That means that there are lots of businesses in this field. Consider pricing yourself high enough to make a profit, but just below the competition.
Take on corporate clients. You get paid as often as you clean. Some smaller and larger businesses need regular cleaning. The more you clean, the more money you will make. So, clean more.
Be prepared to run a business. The more employees you take on the more your role will move from cleaning to managing the cleaners. Hire a bookkeeping service, a payroll service, lawyers, accountants, and other financial specialists to help you manage the business affairs of your company. Ask the lawyer how to incorporate your business to protect against liability. Enable yourself to manage the company, while others work for you.