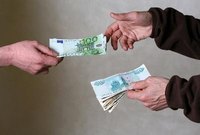 How to Exchange Currency Online. Currencies are exchanged to accommodate foreign travel expenses, to handle buying or selling goods internationally or to send money to beneficiaries abroad. Currency exchanges are traditionally done at airports, hotels, banks and legal moneychangers for a minimal fee. With the advent of technology, online currency exchangers have reduced the hassle of trips to the bank, the cost of transfer and receiving fees and need to track checks.
Find a secure online currency exchange company with a minimum of two years of audited accounts, secure servers with encryption for safe browsing, registration with reliable organizations like Better Business Bureau and trained personnel to handle queries.
Sign up for an account with the company. Doing so should be free with no ongoing fees or minimum transfer levels. Download the application form, fill it with correct bank details, sign it and fax it along with the requested compliance documents.
Log onto your account after it is set up. Verify the current currency exchange rates and place an order for the funds to be converted online. The company will lock in the rate, give you a fixed price and provide a confirmation for your records. Verify that the bank account where the funds will be delivered is denominated in the appropriate currency.
Select the amount, currencies to be converted and payment methods. Send the funds to be converted through wire transfer or electronic check. Usually the companies operate with your existing bank accounts and do not require Internet banking or installation of exclusive software.
Track the status of your transaction through the account report features provided by the website. The website should also have an online support system accessible anytime during the day to assist you.
Allow reasonable processing time based on the payment and delivery methods for converting the funds. The fastest way for early delivery is wire to wire transfer. The wiring cost depends on the outgoing currency. After converting the funds, the company deposits the currency directly into your bank account.