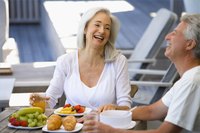 How to Be Vegan. Becoming a vegan is becoming more and more popular. People who are vegans eat no animal products and use no animal products whatsoever. Vegans adopt a vegan philosophy for many reasons including animal rights, to help the environment, for health reasons and for spiritual and religious reasons.
Avoid eating meat. This means beef, chicken, turkey, and anything that has a meat base in it. This may mean potato or onion soup in restaurants. In this way, veganism is similar to vegetarianism.
Ingest no diary. Since dairy comes from cows and vegans use no products from animals, diary is out. This is where veganism differs from vegetarianism. Eating no diary means no cheese, yogurt or milk products. Soy milk or soy products are usually fine and businesses are coming up with more and more soy products, so you may find eating your favorite foods still possible on a vegan diet.
Consume no eggs. This is where things may become difficult for many people. Many bread and desert products have eggs in them and many people find it difficult to cut bread out of their diet.
Eat plant-based foods. Fruits, vegetables, whole grains, nuts, fruits and legumes are fine, as long as egg or dairy products have not been used to create the foods. Common vegan products include wheat chips and bagels.
Do more than just change your diet. Being a vegan means avoiding animal products used in clothing and household products. No leather, wool, fur or down. Any cosmetics you use such as shampoos and make-up should not be tested on animals.
Talk to your care provider before starting a vegan diet. Depending on what you eat you may need to take an extra vitamin to get enough calcium and iron.