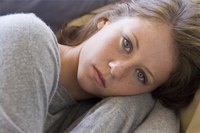 How to Get Rid of Stress. Most of us have had some form of stress-related condition that proves the old adage, "manage your stress or your stress will manage you." Everything from ulcers to allergies can be traced back to unchecked stress. To live healthy, happy lives, we must learn different techniques to prevent pressures and tensions from wreaking havoc on our minds and bodies.
Say no and mean it. Set boundaries and don't let people move them, especially those people who continually push to see how much they can get from you. If you don't set boundaries, your energy and vitality will be drained by things you don't even want to do, by people who always take but never give back and you'll never learn to get rid of stress.
Engage in activities you love. Drawing, dancing, singing, gardening, cooking, even cleaning (if you enjoy it) can be used as self-therapy and will help chase away tension.
Banish those self-inflicted, inner "rules" that demand you be the perfect husband, the best mother, the most productive employee or the first in your class to ace a test. Life alone brings enough stress to your doorstep. Why create more?
Stop putting things off and get rid of the clutter in your house and in your office. These things alone will help you feel more in control of your life and when you feel you're in the driver's seat, you're less likely to get tripped up by stress.
Treat yourself to a massage at least twice a month. Massage is more than just being pampered. It decreases the level of cortical which creates the "fight or flight" response in the body. It increases serotonin, the chemical that helps with sleep, anxiety and depression and increases dopamine, which provides the body with pleasurable sensations, smoothing stress away before it can build up.
Drink more water and green tea and less colas and fruit juices. Eat small low calorie meals and snacks throughout the day to keep anxiety at bay. Vitamin B helps smooth out your mood and you can incorporate it into your diet with foods like low fat beef, low fat milk, cottage cheese, fruit, almonds, blueberries, tuna and cornflakes.