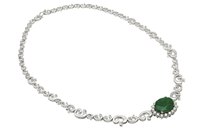 Fine emeralds are rare and precious. Their naturally rich green color has made them a centuries old symbol of springtime and rebirth. Emeralds are a relatively soft gemstone and often have tiny fractures and inclusions called jardin, which means "garden" in French. Because of their softness and relatively unstable internal structure, emeralds must be cleaned with care.
Most Emeralds Are Treated
Most emeralds are chemically treated to improve their appearance. Because of these treatments, harsh chemicals should never be used to clean emeralds. Ammonia or bleach may strip your gemstone of its luster. Assume your emerald has been treated -- a widely accepted practice in the jewelry industry. Before cleaning, check that the setting is made of a solid precious metal. Cleaning plated jewelry can ruin the finish. If your emerald piece includes pearls, have it cleaned professionally.
Gently Clean Your Emeralds
To clean emeralds, make a tepid mixture of dish soap and water. Soak the jewelry in the mixture for two or three minutes, and then use a soft nylon brush or soft toothbrush to very gently scrub the item. Rinse with room temperature water. Never use hot or cold water when cleaning fine jewelry. Temperature extremes can crack stones and may also loosen prongs.
Jewelry Maintenance Tips
Every time you clean your jewelry check all prongs. If your jewelry damaged or the stone is loose, take it to a jeweler for repair. Store precious gems in separate containers or in divided trays; jewelry should not rub against other pieces. Diamond jewelry can easily scratch emeralds, silver and gold.