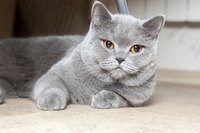 Cat acne is a condition of the sebaceous glands in the chin. It can take different forms, from slightly inflamed red pimples to blackheads, to bloody crusts on a cat's chin. Acne affects many cats of all ages who have oily skin or who eat out of plastic bowls, but its exact cause is unknown. Cat acne can be treated by washing the area and treating with ointments or creams.
Symptoms and Development
Cat acne takes on an appearance similar to that affecting humans. It occurs when the sebaceous glands -- the glands that produce oils -- under the cat's chin and on his lips become blocked. Some cats might develop only a small degree of irritation, redness or small pimples. At its worst, feline acne can cause the cat's entire chin to swell and to drain pus. Scabs may develop due to scratching; secondary infections may occur from the trauma scratching causes. The exact cause of feline acne remains unknown, but it may be caused by food or plastic food dishes, parasites, bacteria, allergies or poor grooming. Cat acne can be managed, but not cured.
Environmental Factors
Some environmental factors may play a role in cat acne. Some cats are sensitive to compounds found in plastic bowls. Feeding your cat from stainless steel or ceramic bowls can reduce or eliminate acne in that situation. Skin scrapings can determine if your cat has allergies that might be causing the acne. Skin scrapings can rule out fungal infections and mites, as well.
Topical Treatment
Severe acne can be treated with antibiotics, either oral or topical. Serious acne breakouts can be treated with corticosteroids. Cleaning the cat's chin twice daily with a solution of up to 3 percent benzoyl peroxide can be used to break down the excessive oils.
Food and Acne
Changing a cat from wet food to dry food can be helpful to some cats, particularly to those who do not groom themselves well. Canned food that has become caked on a cat's chin also can clog his sebaceous glands. Cat acne can be reduced or avoided from this source if the owner washes the cat's chin frequently or after meals.