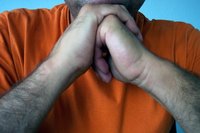 How to Stop Cracking Knuckles. Cracking knuckles can be an annoying habit. It makes an irritating sound and may cause joint problems. Many people that crack their knuckles find that it is an addiction; they habitually crack their knuckles throughout the day. However, you can break the habit of knuckle cracking.
Give yourself a set amount of time to stop. Start off by making a vow to not crack your knuckles for the day and then keep increasing the time frame.
Reward yourself for refraining. If you go a week without cracking your knuckles, promise to buy yourself a treat.
Wear a rubber band around your wrist. Every time that you feel the urge to crack your knuckles, snap the band. It should train your mind to associate knuckle cracking with pain.
Consider hypnosis. Contact a hypnotist to see if they can help you stop the bad habit of knuckle cracking.
Perform hand stretches. Stretching your fingers and hand will likely ease the urge that you need to crack your knuckles.
Take a calcium supplement. Many people crack their knuckles because of joint discomfort. Getting enough calcium will help build and repair your joints.