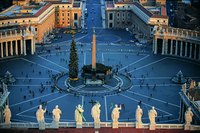 Visitors to Vatican City are immersed in a rich mix of history, religion and art. Travelers to Italy include the Vatican in their itinerary, often trying to squeeze it into a one-day tour of Rome. Allow only a few hours for your visit and you'll find yourself racing through 15th-century architecture, barely glancing at magnificent Renaissance art. Instead, set aside an entire day to visit the Vatican so you can truly appreciate its significance.
Plan Your Visit
Home of the Roman Catholic Church, Vatican City is cherished by 1.1 billion Catholics worldwide, and it can seem as though all of them are visiting at once. The least-crowded months to visit are January, February and November. Avoid ticket lines; reserve your entry time and purchase your ticket online well in advance. Enter Monday to Saturday 9 A.M. to 4 P.M.. Museums close at 6 P.M. The Vatican is closed every Sunday except the last Sunday of the month, when admission is free from 9 A.M. to 12:30 P.M. Dress appropriately; visitors may not enter the Sistine Chapel or St. Peter's Basilica wearing miniskirts, hats, shorts or sleeveless blouses.
Book a Tour
Reserve a space on one of several tours offered at the Vatican. Most last two to four hours and provide you with detailed information you might otherwise miss. As part of a tour, you're allowed to proceed directly from the Sistine Chapel to St. Peter's Basilica. Book tours online in advance; prices include admission to the museums and Sistine Chapel. For a once-in-a-lifetime experience, request a private visit after hours. You'll soak in the quiet splendor of the Sistine Chapel without the crowds, and view art in the museums without jostling for position. You must request a private visit months in advance, and should be prepared to pay a hefty fee for the privilege.
Get There
Take the Metro Line A to Ottaviano or Pietro-Musei Vaticani stations and walk 10 minutes to the Vatican. Several bus lines run to the museum entrance or other locations nearby. Ride the number 19 tram to Piazza del Risorgimeto and walk five minutes. Visitors may also hail a cab or drive and park in nearby pay lots. Bring your camera; flash-free photography is allowed everywhere except the Sistine Chapel. Pack a small pair of binoculars so you can get a close-up view. Leave your tripod home; it's not allowed inside the museum.
Visit the Vatican Museums and Sistine Chapel
Put on your walking shoes and enter the museums to wander through 4 miles of art spanning from 2600 B.C. to the 19th century. The museums are organized by time period and begin with Roman, Greek and Mesopotamian antiquities, then proceed to Renaissance paintings, frescoes and sculptures from legendary artists including Michelangelo, Raphael, Caravaggio and Leonardo da Vinci. The final stop is the Sistine Chapel with its famous ceiling depicting the creation, painted by 34-year-old Michelangelo. When your neck becomes tired from looking up, check out the frescoes on the back, north and south walls depicting the last judgement, stories of Jesus and stories of Moses.
Visit St. Peter's Basilica and Square
See Michelangelo's "Pieta" and Bernini's altar inside this magnificent church which is open from 7 A.M. to 7 P.M. April through September; the Basilica closes an hour earlier during winter months. See the Pope on Sundays when he gives crowds his blessing from the window of his apartment. Get a free ticket in advance for general audience every Wednesday when the Pope speaks at 10:30 A.M. in the square. During the winter, general audience is held in the auditorium next to the Basilica. The Pope leaves Vatican City during July and August. During Sunday blessings and general audience, St. Peter's Basilica is closed to the public.