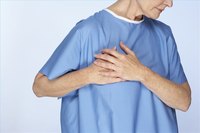 How to Treat Heartburn. Heartburn is a condition that is caused by stomach acids backing up into the esophagus. Symptoms of this condition include difficulty swallowing, burning in the throat, acidic taste in the mouth and burping. For those who suffer from heartburn occasionally, some simple treatments and diet changes can help.
Avoid foods that cause your heartburn. Some common heartburn-causing foods are garlic, onions, spicy or acidic foods, and caffeinated items such as chocolate and coffee. Other foods can cause heartburn as well, so when you have heartburn, keep track of what you ate. This will help establish patterns and allow you to avoid the foods that cause your heartburn.
Change medications that irritate your stomach. Aspirin is a common cause of heartburn. If you must take heartburn-causing medications, take them with food or with a drink that will coat your stomach in order to lessen the resulting heartburn.
Eat smaller meals. Tight belts or waist bands and over stuffed stomachs can contribute to heartburn. Eating smaller meals more frequently will keep you from becoming overstuffed.
Use gravity to your advantage. If heartburn has set in, stay in an upright position to allow the acids to flow back into your stomach. Sleeping on extra pillows at night or not lying down immediately after a meal will also help.
Take antacids to treat the pain if it persists. There are numerous over-the-counter products that relieve or limit heartburn if taken before meals. For those who suffer on occasion, these are effective treatments.
Get medical attention if your heartburn increases in severity or if you suffer more than two to three times each week. If heartburn is coupled with severe pain, sweating or a pain in the left arm, seek immediate medical attention as these are symptoms of a heart attack.