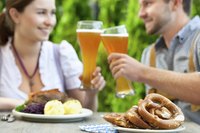 Oktoberfest has been an integral part of the German city of Munich for more than two centuries. The tradition started in 1810 when Crown Prince Ludwig married. From there, the festival expanded to become the most famous beer and culture festival in the world. It's also one of the most festive chances to dress up in the calendar year, so don't miss out, meine Damen und Herren.
Darling Dirndl
Traditional garb, known as "tracht" is standard attire at Oktoberfest. Women wear dirndls, those whimsical beer maid dresses with aprons and frills. Dirndls are available to purchase online and at many specialty stores. You can purchase or rent a sobering black one, or spice it up with colorful, silky options. Be sure to tie your dirndl bow in the right place. If you tie the apron bow on your left side it means you are single, if you tie it on the right you are taken. Pair the dirndl with some fun jewelry, comfortable undergarments and walking shoes.
Learning the Lederhosen
Men have their own version of tracht, the lederhosen. These historic coveralls combine the look of shorts with suspenders and a button-up checked or white shirt. Iconic knee socks complete the ensemble. Make sure the lederhosen go to your knee and wear a pair of sturdy boots. Many men opt to wear a traditional leather or felt hat. If you want to get into the spirit, top off your hat with tall plumage, called a "Gamsbart."
Playing It Cool
Women who prefer not to bear much skin or who dislike wearing dresses can wear street clothes. Pair dark wash jeans with a colorful blouse and walking shoes. Don themed earrings, a traditional necklace or a colorful pashmina to add festive accents to your outfit. You can also wear a comfortable dress to the events.
See You "Leder"
As with the dirndl, lederhosen are not comfortable attire for everyone. Men can wear jeans and a button-up shirt with a white or black undershirt and layer on a sweater for warmth. Keep the rugged Bavarian spirit alive with sturdy boots. There is no official dress code for Oktoberfest -- except in some themed tents -- so you are welcome to wear regular clothes, but be warned most people dress up for the occasion.