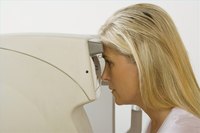 How to Determine If Cataract Surgery Is Needed. The development of a cataract in the eye is fairly common. This buildup of protein happens as people age, as a result of contact lenses and as a side effect of some diseases. Some cataracts will never bother you, but you should know how to determine if cataract surgery is needed.
Learn to Determine If Cataract Surgery Is Needed
See your doctor if you have blurred vision. She'll probably perform several tests to find out the source of your problem. There are many other eye conditions and diseases that can contribute to blurred vision.
Talk to your doctor about the state of your cataract. Often doctors describe cataracts are being too ripe or not ripe enough. These descriptions refer to how hard or soft your cataract is and whether it's in a good state for surgery.
Consider surgery if your doctor calls your cataract ripe and you have vision problems. A hard or ripe cataract is easier to remove and correct than a soft cataract. Hard cataracts also usually cause more severe vision problems.
Ask your doctor about how he thinks your cataract will develop. If you have a soft cataract and no vision problems, your doctor might determine that surgery is needed anyway if he thinks it will upset your vision later. Soft cataracts also often have more options for surgical procedures, including laser treatment.
Return to your doctor on a regular basis if you have a cataract that isn't bothering you. Your doctor may recommend annual or bi-annual checkups to watch how the cataract develops.
Think about how badly your vision is affected by your cataract. If you can still read, drive, work and enjoy yourself, you probably don't need to have the surgery done. Your doctor may tell you that cataract removal is option in your case.