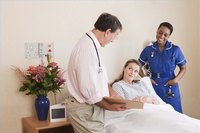 How to Recover From a Hysterectomy. The time it takes to recover from a hysterectomy varies widely depending upon the patient and the procedure. Women who have laparoscopic subtotal hysterectomies (LSH) may go home from the hospital within 48 hours and be back at work in 7 to 10 days. Recovery from a radical hysterectomy with removal of lymph nodes can take several months. Each woman must stay in close contact with her health care team and recover at her own pace.
Know How to Recover from Hysterectomy
Take charge of your recovery. Don't allow yourself to be pushed back into work or household routines on someone else's schedule. Everyone recovers at a different pace, so you should resume normal patterns when you feel healthy enough to do so.
Network with other women who have undergone hysterectomies. Women who have had the surgery can provide strategies that only come from experience. Former patients can also offer support that non-patients may not be able to provide.
Get moving as soon as you are able after surgery. Under your doctor's direction, begin simple stretching exercises and walking on flat surfaces.
Do not drive, run, jog, swim or participate in aerobic exercise until released to do so by your doctor. Returning to certain types of exercise too soon can cause the remaining organs in the abdominal cavity to shift or collapse.
Abstain from sex for 4 to 6 weeks after any type of hysterectomy. Hysterectomy definitely does not end sexual pleasure, but engaging in sex prematurely can cause infection and organ displacement.
Expect to feel depressed and to have mood swings. The depression may have a chemical root such as a hormone imbalance. Depression may also stem from the emotional reaction to the loss of fertility.