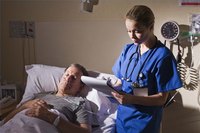 How to Help Someone Recover After Brain Surgery. When it is time to help someone recover after brain surgery, it is easy to become fearful and anxious. With the right information and guidance, however, you can be a strong support for your family member or friend during a very difficult time in her life. Caregivers play a vital role in emotional and physical support following brain surgery. Read on to learn how to help someone recover after brain surgery.
Understand brain surgery to be a major surgery whether it is performed totally under general anesthesia or as an awake procedure. Any time the brain is subjected to surgery, there is a possibility of damage to areas outside the surgical point.
Spend time with the surgeon following the procedure to learn if there are any unexpected circumstances to face during recovery. If the outcome was not as expected, get clear instructions about the change in recovery protocol from those given prior to surgery.
Know your limits. In the effort to help someone recover after brain surgery, it is often a temptation to do more than what is necessary. You must realize that recovery may last for weeks or months. It is important to not burn out at the start. You will be needed for possibly a lengthy recovery.
Obtain a clear directive about when to notify the doctor regarding symptoms. It will help you to understand what is a life-threatening emergency and what is part of the recovery process. If you observe unusual behavior or symptoms and you can't reach your doctor, call 911 for assistance.
Take time for yourself. The road to recover from brain surgery may include more than just recovery time. If the brain surgery was to remove a malignancy, the recovery process may be complicated by radiation or chemotherapy treatments. Make arrangements for occasional relief to get away from the day-to-day, stressful routine.
Realize the patient will likely be on medications during the process to recover from brain surgery. It is important to keep him on a strict medication routine as scheduled by the doctor. Skipping or delaying a dose could result in a setback or complications after surgery.
Prepare to help out with all household chores. The recovering patient may be shy about asking for help, so be proactive. Ask if you can help by running errands, doing dishes, cooking meals or mowing the lawn.
Prepare to help out with child care. Patients may be given strict limits about the amount of weight they can lift. Help out with babies or toddlers too large to be lifted, and offer to chauffeur older kids to lessons and sporting events.